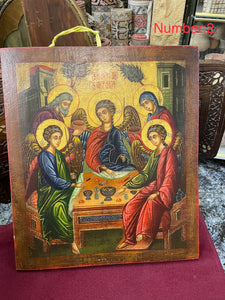 hamedian gallery
The Holy Trinity, handmade Russian icon. 19th Century.
Regular price
$1,499.99
$0.00
Tax included.
icon of the holy trinity 
hand made russian icon 19th C 
the icon is in very good condition, made in four different levels 
First wood, second canvas, third gold leaf and fourth the painting.
Size:  32x25   inch: 12.5x10 
The Trinity (Russian: Троица, tr. Troitsa, also called The Hospitality of Abraham) is an icon created by Russian painter Andrei Rublev in the 15th century. It is his most famous  and the most famous of all Russian icons, and it is regarded as one of the highest achievements of Russian art Scholars believe that it is one of only two works of art (the other being the Dormition Cathedral frescoes in Vladimir) that can be attributed to Rublev with any sort of certainty.
The Mikie depicts the three angels who visited Abraham at the Oak of Mamre (Genesis 18:1–8), but the painting is full of symbolism and is interpreted as an icon of the Holy Trinity. At the time of Rublev, the Holy Trinity was the embodiment of spiritual unity, peace, harmony, mutual love and humility.
---
More from this collection